Now you can place your orders for catalogue products online in the new OSE WebShop.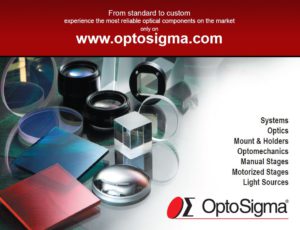 With an increased stock in the European logistics centre in Paris and frequent shipments from the other inventories in Japan and USA, most products can now be delivered within 1-5 working days.
High quality optics and optomechanics have never been so accessible!
Please visit the completely renewed website www.europe.optosigma.com or click directly on the "Quick order" button above.
For customized items, a new section with prepared forms helps you specify your needs, see the blue button above, or just send us your own drawing and specifications.
Check a selection of the many new products:
Vacuum Iris Holder – stainless steel iris diaphragms for UV optical system or optical axis alignment of the laser beam and blocking the return light or stray light, which can change aperture size.
Sigma Cube – a modular opto-mechanical component for microscopes. For white light applications where an even intensity splitting is required over a broad wavelength region.
YAG Laser Crystals – in the shape of rods, rectangular (slab) or disc shaped, small to XXL…
Optical Cage System – a smart opto-mechanical system for individual 3D setups to be built; rigid, easy to assemble and align – perfect e.g. for prototyping work and mobile applications.
Frameless mirrors – and beam splitters with integrated precision holder. No stress induced – perfectly flat, no frame – the whole area can be used, also at grazing incidence!
see further our October newsletter: OSE Newsletter
If you do not find what you are looking for, for local support please contact: info@vongegerfelt.com