As a highly-flexible and extremely compact laser combiner, C-FLEX lets you combine up to 6 wavelengths out of more than 30 wavelengths available.
The lasers can be controlled either separately1) or via common USB port2). Hübner C-FLEX is field-upgradeable and ready to mount DPSS or diode lasers of the Cobolt 06-01 & 04-01 Series as well as most common lasers for laser combiners on market3). The flexible design enables integration of optional.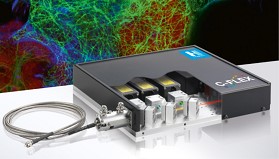 AOM modulators that allow fast modulation of DPSS lasers. Free space beam output or fiber coupling options are available. C-FLEX comprises countless options to make it your first choice in laser combiners.
The way setups are meant to beC-FLEX  features a common power supply and common interlock (key switch plus remote interlock) for all lasers. It is passively cooled (active cooling module available) and fi eld upgradeable. C-FLEX is ready to mount Cobolt 04-01 & 06-01 Series lasers and others3). The compact and robust design of the C-FLEX provides excellent long-term stability and outstanding fl exibility for your application.
Highest Flexibility
Choose between more than 30 different wavelengths
Combine up to 6 wavelengths
Control the lasers via a common USB port2)
Use the analog and digital modulation capabilities of each laser via SMA connectors
Integrate optional AOM (acousto-optical modulators) for fast modulation of DPSS lasers and power regulation
Select optional fi ber coupling (single-mode/polarization-maintaining)