HÜBNER Photonics and Cobolt's production capacity is intact
Dear Customers and Friends,
the current situation of Covid-19 spreading over the western world is very concerning and brings a lot of uncertainties. Swedish authorities are so far maintaining most public operations, but urging the population to contribute to slowing the spreading of the virus by strictly avoiding social contact if having symptoms, by avoiding travel and larger social gatherings and by isolating groups at risk.
So, our society is open but very slow as people are following recommended behavior.
HÜBNER Photonics and Cobolt are strictly following the directives from each of our departments of public health. This means that we are in full operation, but restricting business work to each country's rules. We believe it's important to, while securing our staff's best health, do our best to help keep the economy rolling and to be able to serve you, our customers, as best we can.
Thanks to good stock and supply chain management we are able to run our operation with normal capacity and our logistics solutions are fully functional.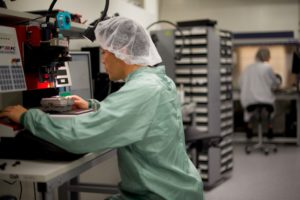 So, we are pleased to inform you that HÜBNER Photonics and Cobolt's production capacity is intact and our standard lead times for products currently apply! Beyond that, we have also pre-produced some C-WAVEs so that we can react to orders at short notice.
As COVID-19 makes its mark on the world, we are so glad to have generous and thoughtful partners.
Thanks to our distributor in China, DynaSense, for donating face masks which we have passed on for use by staff of retirement homes in Stockholm.
Please spread your positive initiatives and ideas in this difficult time. Are you involved in research or development on vaccine or medication for COVID-19 and are in need of lasers, let us know. We want to help!
If you have any questions or inquiries, just let us know. We are here for you!
Stay healthy,
from the HÜBNER Photonics Team
Although these are unsure times, we really hope you will have a relaxing Easter with lots of distant love from families and friends!
Digital Holographic Microscopy: Requirements of lasers for a novel label-free cytometry tool
Read our most recent editorial … published in Wiley's Photonics Views in January this year, we offer an exicting article on this interesting topic written by Professor Björn Kemper and Dr Elizabeth Illy.
[Extract] "
Digital holographic microscopy (DHM)[2,3] is an interferometry-based variant of QPI (quantitative phase imaging) in which typically a laser is used as a coherent light source. DHM provides QPI by detecting specimen-induced optical path length changes against the surrounding environment. The specific requirements of the laser depend on the application and the samples under investigation, however the absolutely most important requirement is long coherence length and small footprint. DHM can be modularly integrated into common optical microscopes [3,4]. This allows effortless integration and usage of the technology as a label-free imaging tool in research laboratories…. (read the whole article for free at Photonic Views)"