The International Day of Light (IDL) will consist of coordinated activities on national, regional and international levels. Activities will be planned so that people of all ages and all backgrounds can gain an appreciation for the central role of light in science and culture, and as a cross-cutting scientific discipline that can advance sustainable development.
The International Day of Light will be held on May 16th every year, the anniversary of the first successful operation of the laser in 1960 by physicist and engineer, Theodore Maiman. The laser is a perfect example of how a scientific discovery can yield revolutionary benefits to society in communications, healthcare and many other fields.
The major goals of the International Day of Light are:
Improve the public understanding of how light and light-based technologies touch the daily lives of everybody, and are central to the future development of the global society.

Build worldwide educational capacity through activities targeted on science for young people, addressing issues of gender balance, and focusing especially on developing countries and emerging economies.

Highlight and explain the intimate link between light and art and culture, enhancing the role of optical technology to preserve cultural heritage.

Enhance international cooperation by acting as a central information resource for activities coordinated by learned societies, NGOs, government agencies, educational establishments, industry, and other partners.

Emphasise the importance of basic research in the fundamental science of light, the need for investment in light-based technology to develop new applications, and the global necessity to promote careers in science and engineering in these fields.

Promote the importance of lighting technology and the need for access to light and energy infrastructure in sustainable development, and for improving quality of life in the developing world.

Raise awareness that technologies and design can play an important role in the achievement of greater energy efficiency, in particular by limiting energy waste, and in the reduction of light pollution, which is key to the preservation of dark skies.
For interest, you can find here some of the laser history, but note that the International Day of Light is not just about lasers and science. It also includes aspects of art, culture, entertainment – everywhere light is present in fact!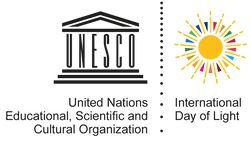 On 16 May 2018 the first International Day of Light celebrated the vital role of light and related technologies in science, culture and art, education and sustainable development. More than 600 events were held in 87 countries reaching hundreds of thousands of people, and a spectacular afternoon and evening celebration was also held at UNESCO headquarters in Paris, France.
This year's Flagship Event takes place in Trieste, Italy. The organizers of the International Day of Light conference at the UNESCO are delighted to announce the first speakers of what will be a rich and exciting programme.  The conference theme is "Illuminating Education" and presentations will cover a wide range of topics, from inspiring science to practical career advice. The conference keynote speaker is Sir Michael Berry from the University of Bristol who will present Optica fantastica – images to illuminate the physics of light, a topic is ideally suited to engage interest and promote science outreach to the public of all ages.  Other presentations will see a wide range of leading international speakers discuss diverse subjects such as light and development, international collaborations, issues relating to light and science education in general, career development and more.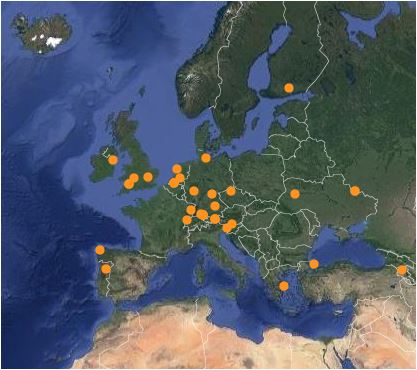 Find out where there are Events to attend in you area and the Calendar of #IDL2019 Activities, or
if you would like to create an event, please read more: International Day of Light 2019