The Cobolt TorTM XS is here … and our new manufacturing facility for C-WAVE is inaugurated.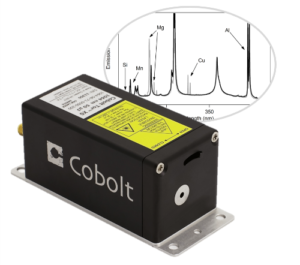 Introducing the Cobolt TorTM XS: a very compact Q-switched laser
1064 nm & 100 uJ/pulse
532 nm & 50 uJ/pulse
single pulse triggerable
especially ideal for photoacoustics and hand-held LIBS!
The Cobolt Tor™ XS lasers are high performance Q-switched diode pumped lasers. The sophisticated cavity design of these lasers provides a unique combination of high pulse repetition rates, short pulse lengths and exceptional pulse-topulse stability in a high quality TEM00 beam.
The combination of compact format, high level of robustness, high average power and pulse energy performance make the Cobolt Tor™ XS lasers ideal light sources for a large variety of industrial and scientific applications.
The lasers are manufactured using Cobolt's proprietary HTCure™ technology and packaged into a sealed laser head, offering an outstanding level of robustness and reliability and making these lasers highly suitable for OEM integration into demanding environments.