Cobolt, a part of HÜBNER Photonics, develops, manufactures and supplies diode-pumped solid-state lasers (DPSSLs) and Diode Laser Modules in the visible, invisible and near infrared spectral ranges.
Cobolt
• Tor XS
• Skyra 457nm/488nm/515nm Solid state Ar+ laser, permanently aligned replacement for microscopy
• 08-NLD 785 nm ESP; 400mW and enhanced spectral purity (ESP), >60 dB
C-FLEX 4 & 6 laser combiners
• 4-line, compact version
• for Raman and Holography
C-WAVE tunable, single frequency laser source now covering the complete green wavelength range!
• GTR, prototype demo (500 nm – 740 nm, no gaps!)
• perfect for Holography, Raman spectroscopy and Quantum research
P-CROSS
• Engineering demo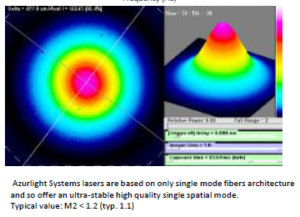 Azurlight Systems single frequency fiber lasers
• 130W at 1064 nm in a perfect beam
• ideal for atom and molecular trapping
For further information, please visit us at LASER World of Photonics Munich – booth B2#214

Cobolt recognises the impact of its activities on the environment and strives to lead the industry in minimising this impact on daily basis wherever possible.
The key points in the strategy are:
Cobolt follows the requirements in the EU Directive on Waste from Electrical and Electronic Equipment (WEEE)
Cobolt recycle wherever possible. Including all paper, plastics and other packaging material.
A conscious decision was made to choose an electricity supplier who supplies electricity only from renewable energy sources.
A conscious decision was also made to choose a cleaning service that uses environmentally approved cleaning agents.
Cobolt reduce its unnecessary consumption, especially of electricity and paper.
Cobolt select suppliers who are aware of their environmental impact and have an environmental policy.
All Cobolt products are compliant with the EU Directive for Restriction of the use of Hazardous Substances in electrical and electronic equipment (RoHS)
Goods are shipped with a preference for low carbon emission methods of transport where realistic and carbon neutral shipments are made when possible.