OptoSigma Europe SAS is expanding their premisses in the outskirts of Paris! … including for example a laboratory for assembly.
Special promotion: OptoSigma offers now to his exclusive territorial distributors the possibility to benefits from this website. Now, the distributor's customers can get specifc "distributors customers account". They are able to pass orders here, and get the products directly from their usual partners. All orders are direcly transmited, and you keep all the advantages you have with us. Please ask directly to complete the registration and get your "Distributors Customer Account".
OptoSigma is evolving and so are their prices. The recent change in the export regulation between EU & Japan allows OSE  to remove a significant part of the customs charges from the price calculation, so we are happy to announce reduced pricing for the following area of products:
Optics
Opto-Mechanics (except manual stages and Bases)
Laser source and Laser safety products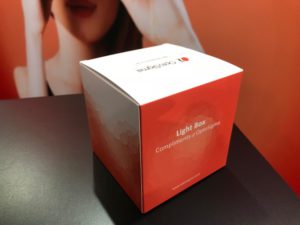 OptoSigma exhibited new products in within different areas of interest; high speed nano-scale imaging, high power zoom, beam collimator, etc.
OptoSigma presented a research project around an innovative microscope, that they are involved in. This experiment has been introduced in the Opto-Electronic Advances:
"Remote-mode microsphere nano-imaging: new boundaries for optical microscopes"
Read more: "Novel Lens for Super-Resolution Imaging"
Nature Communications: "Optical virtual imaging at 50 nm lateral resolution with a white-light nanoscope."
Citation: Zengbo Wang, Wei Guo, Lin Li, Boris Luk' yanchuk, Ashfaq Khan, Zhu Liu, Zaichun Chen & Minghui Hong.
Prof. Hong Minghui is the Director of Optical Science and Engineering Center (OSEC) in NUS. He specializes in laser microprocessing & nanofabrication, optical engineering and applications. He has co-authored 10 book chapters, 24 patents granted, and 400+ scientific papers in Nature, Chemical Reviews, Nature Nanotechnology,Advanced Materials, Nature Communications, Nano Letters, ACS Nano, Laser & Photonics Reviews, Light: Science and Applications etc. and 50+ plenary/keynote/invited talks in international conferences.
He is a member of organizing committees for Laser Precision Micromachining International Conference (2001~2016), International Symposium of Functional Materials (2005, 2007 and 2014), Chair of International Workshop of Plasmonics and Applications in Nanotechnologies (2006), Chair of Conference on Laser Ablation (2009) and Chair of Asia-Pacific Near-field Optics Conference (2013).
Prof. Hong is invited to serve as an Editorial Board Member of Scientific Reports , Associate Editor of Science China, International Journal of Optomechatronics, Editor of Laser Micro/nanoengineering, Guest Editor of Applied Physics A and Industrial Laser Users.
He is Simon Industrial and Professional Fellow, the University of Manchester, UK; Guest Professor of Zhejiang University, University of Science & Technology of China, Xiamen University and Nanjing University of Technology as well as Visiting Professor of Institute of Optoelectronics, Chinese Academy of Sciences.
Prof. Hong is also Fellow of Optical Society of America (OSA), Fellow of International Society for Optics and Photonics (SPIE), Founding Fellow of International Academy of Photonics and Laser Engineering (IAPLE).
Reference: NUS – Laser Technology Group