The Board of Sigma Koki Co. Ltd. (Japan – Tokyo), the global manufacturer of optics and photonics products and instruments, has appointed Guy Ear as President and CEO of its OptoSigma Corporation (USA – Santa Ana, California) affiliate of 1995, while continuing as President and CEO of OptoSigma Europe SAS (France – Les Ulis, Paris).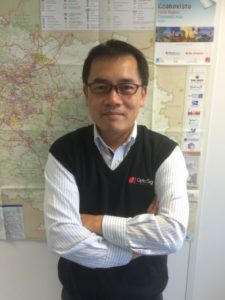 The company says, his appointment aims to reinforce the synergies and the development of the current of business, as well as to reinforce and strengthen ties and create a better strategic fit between the American and European subsidiaries of the group. The appointment also aims to respond with more flexibility and efficiency to rapid changes in the photonics industry.
Prior to creating the European subsidiary in France, Guy Ear was Director of the International Division of Sigma Koki for a period of 5 years. The parent company was established in Japan in 1977, and manufactures optical and opto-mechanical components for scientific research and the photonics industry, a Japanese specialist in optics and photonics products.
INDUSTRIES SERVED BY OPTOSIGMA CORPORATION:
Aerospace / Aviation, Astronomy, Biotechnology, Chemistry / Chemical Engineering, Chromatography, Displays, Environmental Monitoring / Sensing, Holography, Imaging, Inspection / Identification, Medical / Biomedical, Microscopy, Military / Tactical, Photonics Component Mfg., Remote Sensing / Lidar, Reprographics / Printing, Robotics, Semiconductor Processing
The OptoSigma Corporation is a supplier of optical components, thin film coatings and opto-mechanics and manual and motorized positioning devices. For further assistance, you find here following executives: Steve McNamee (VP/General Manager), Dan Denison (Sales Manager) and Clayton Summers (Sr. Mech. Engineer).
OptoSigma specialises in thin-film coatings, opto-mechanics, manual and motorized positioning components and optical components. OptoSigma also provides service and engineering insight for its customers.

OPTICS: Mirrors, Lenses, Beam Splitters, Filters, Polarizers, Optical Assemblies, Prisms, Frameless Units, Windows and Substrates, Laser Crystals
OPTOMECHANICAL COMPONENTS: Holders and Mounts, Optical Post Assemblies, Cage Systems, Bases, Optical Rails, Brackets, Spacers, Mounting Hole Converting Adapters, and more
MANUAL STAGES AND ACTUATORS: Linear X-Axis and Z-Axis Stages, Rotation Stages, Goniometer Stages, Platforms, Actuators
MOTORIZED MOTION CONTROL: Translation Stages, Controllers, Stepper Motor Stages, Actuators, Stepper Motor Stages
Optical Tables & Breadboards; Light Devices & Analysis; Systems & Applications; and Tools, Accessories & Maintenance
Customize any product: Modify the standard or request a part from scratch. Our design and manufacturing department will find the best solution for your request
CUSTOM COATING: Super V, V-coat, Multiband Anti-Reflection, Broadband, MgF2 AR, Telecom AR, Laser Line High Reflection, Broadband High Reflection Coatings
Objective Lenses from OptoSigma; Standard and custom objective lenses for imaging and laser processing. Wavelengths include UltraViolet, Visible and Near Infrared. Offering a large variety of long working distances and high numerical apertures with RMS or M26 threads and magnifications ranging from 2× to 100×. Unique laser processing objectives, which are corrected for simultaneous visible imaging. Find them all on the website! See our new water immersion objectives at Photonics West 2018, Booth: 307!